Keywords
Flexible Manufacturing Systems
Discrete Event Simulation
Automation
Control Architectures
Scheduling
Hierarchical Planning
Robust Systems
Information Technology
Latest News
SEPTEMBER 21, 2009

BUFAIM website is renewed, please check it and notify us
Integrating technologies for a fast and flexible manufacturing enterprise
Foundation
Founded in 2001, Flexible Automation and Intelligent Manufacturing Systems (BUFAIM) Laboratory aims to realize a flexible manufacturing environment where research on modern manufacturing planning and control techniques, flexible automation concepts and their integration issues can be conducted. The model factory in BUFAIM provides a reconfigurable infra-structure for implementing the on-going research and presenting it to academia and industry.
Goals
The ultimate goal is "Integrating technologies for a fast and flexible manufacturing enterprise" and BUFAIM tries to set a framework for interdisciplinary research in this direction through collaboration with several departmental laboratories as well as other engineering disciplines.
The Model Factory Overview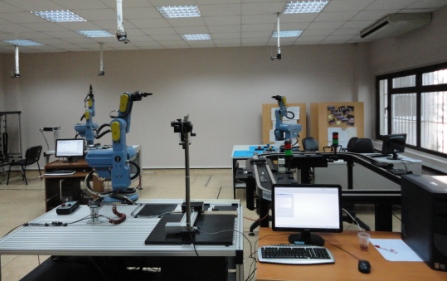 The model factory comprises of three robotic cells representing several automation concepts including machine-vision, an Automated Storage and Retrieval System, a free-ranging Automated Guided Vehicle and a closed-loop conveyor. All the software used to run the system is developed by BUFAIM student researcher teams in a modular, reusable and expandable fashion with an understanding of continuous improvement. Operating under in-house developed software is one of the most distinctive properties of BUFAIM. While BUFAIM is mainly a graduate research laboratory, educating interested undergraduate students is another goal pursued by means of a number of elective courses and graduation projects.